Assad's relatives face asset freeze and travel ban as EU steps up sanctions
Asma al-Assad, president's British-born wife, will still be allowed to visit UK, says William Hague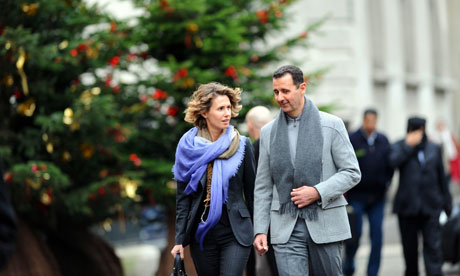 Bashar al-Assad and his wife Asma in Paris in 2010. Asma al-Assad was until recently seen as an international style icon. Photograph: Miguel Medina/AFP/Getty Images
The
European Union
has stepped up pressure on
Syria
's president,
Bashar al-Assad
, by hitting his closest female relatives with new sanctions. The EU has barred his wife, mother, sister and sister-in-law from travelling in the EU and has frozen their bank accounts and other assets.
But, as armed clashes and shelling of civilian areas were reported across the country on another Friday of mass protests, it remained unclear how the move, aimed at curbing the luxury lifestyle of a dynasty engaged in a bloodbath in Syria, would affect
Asma al-Assad
, the president's British-born wife and until recently an international style icon.
The travel ban placed on the four women means they cannot enter the EU. But Asma al-Assad is exempted from that ban as the former investment banker is a UK national and may still travel to Britain, though not to the rest of the EU.
More:
http://www.guardian.co.uk/world/2012...a-bashar-syria